Metro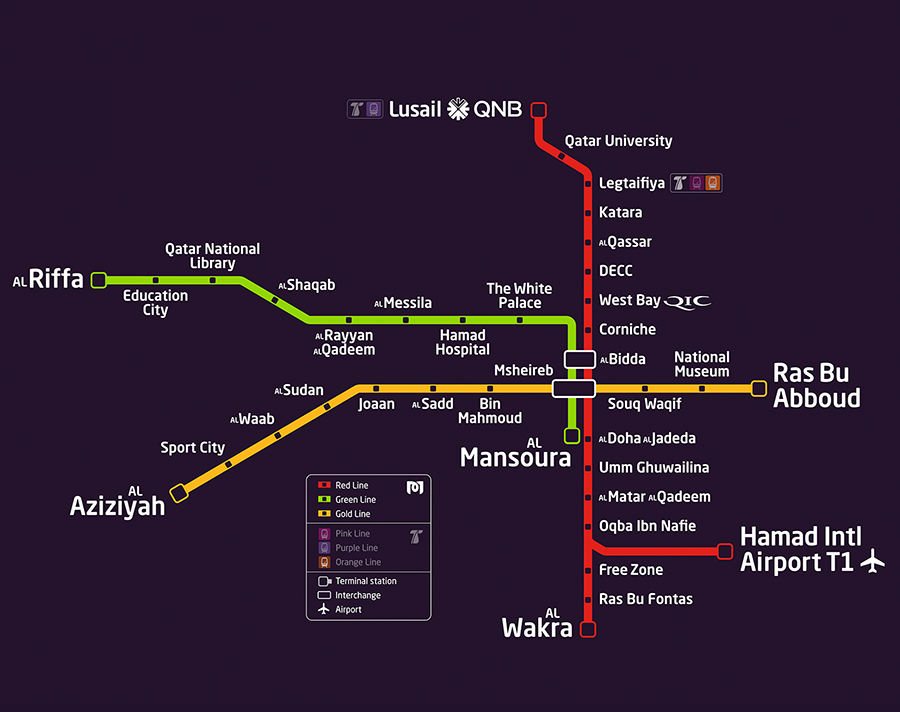 The Qatar Rail metro network can get you to most of the commonly frequented places in Qatar, including Aspire Zone, Souq Waqif, Qatar University, and Qatar Foundation.
Feeder buses ("Metrolink") and ride-sharing services ("Metroexpress") provide connectivity to the stations from multiple locations in the city, free of charge. The nearest metro stop to the GU-Q building is "Qatar National Library" on the Green Line and it is located less than 200 meters (or 220 yards) from the campus.
Taxi and Private Transportation Services
Karwa is government-owned, metered taxi service in Qatar. The rides can be requested over the phone or via an app. Uber is a ride-hailing service available locally. This is popular and widely used. In addition, there are a number of companies offering private chauffeured services.
Driver's Licenses
Qatari driver's licenses are required of all drivers and you can only obtain it after your residence permit (RP) is issued. Since it may take as long as 45 days to obtain the RP, we recommend purchasing an International Driving Permit (IDP) ahead of your arrival to Qatar. It is possible to drive with the IDP for up to 6 months or until you receive your residence permit.
International Driver's Permit
International Driving Permits (IDP) should be purchased before leaving home country. In United States, they can be bought in AAA locations usually for a small fee. If you decide to use IDP in Qatar, please be certain to also keep with you your state driver's license at all times, as the IDP is only valid in the presence of a state driver's license. Qatari government requires that residents switch to a Qatari-issued license upon receipt of the RP.
Obtaining a Qatari Driver's License
In order to obtain a Qatari Driver's License, you must first have applied for and received your RP. You will then need to undergo an eye exam, and pay a fee. Depending on which country your license is from, you will either receive the Qatari Driving license immediately or you will be required to pass a theoretical and practical exam first. Please note that the fee for the license is not a reimbursable expense. Please contact GU-Q's Immigration and Government Relations Manager for more information and assistance with the process.
Temporary Driving Licenses
You can get a temporary Qatari driver's license while waiting for you permanent residence permit. The license will only be valid as long as your visa is and costs 250 QR. However, you are required to get a permanent driver's license as soon as your residence permit has been issued.
Purchasing a Vehicle
If you plan on staying in Qatar for more than a year, purchasing a car may be a good option, as the per-month cost is generally much cheaper than leasing the same vehicle, and the resale value of well-maintained cars in Doha is high. Both new and used internationally known cars are available for sale from individuals and dealerships. Many models are not exactly the same but similar to those available in other countries, and depending on the model, prices can be higher compared to U.S. One source for used cars is Qatar Foundation's portal called Maktabi (GU-Q email address is needed to register and use the platform). Please note that you will not be able to purchase a car until you have obtained your residence permit. This will give you some time to look around, talk to people, and decide which option is best for you.
Leasing a Vehicle
If you choose to lease a car, insurance, regular maintenance, and repair are included in the leasing price. In addition, some leasing agents will come to the scene of an accident and handle relations with the police. They will also provide a loaner vehicle if your car needs repair. Some leasing companies allow you to lease by the month, so you may turn in your car over winter or summer breaks.